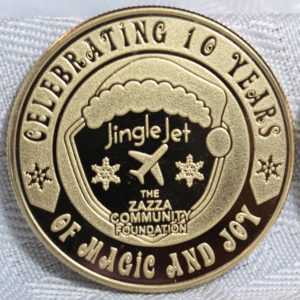 Highland Mint Commemorative 10 Year Anniversary Coin
To commemorate 10 years since Jingle Jet's Inaugural flight, we are proud to present this gorgeous Highland Mint Limited Edition Coin. This 39mm Bronze Bullion pressed coin is the same size and weight as a US Silver Dollar and is a polished way to display your support of The Zazza Community Foundation.
Price includes shipping. Please allow 3-4 Days for processing!